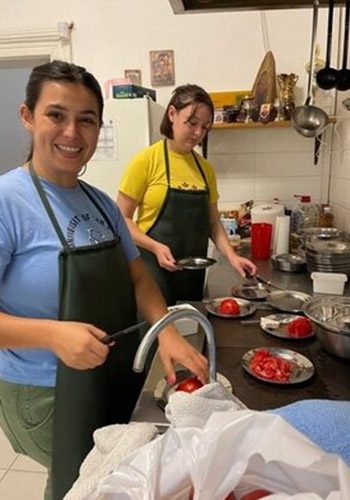 TRIP TO SERBIA, KOSOVO AND METOHIJA JULY 20-AUG 5, 2021
July 20-25
My Dear Friends, as you know flying to Serbia you always lose a day. We arrived late Wednesday, unpacked and met Mira and Zoran for coffee and a snack. On to the hotel to finish the day and a half, because my girls Mary and Lizzy are scheduled to help out in the soup kitchen in the morning.
To be continued,
Good night
Hello All,
We started the day with a very casual and excellent breakfast. The girls are working the soup kitchen again today, and I'm to have an interview with Hram Television. You must believe me when I tell you that is always stressful for me because I can't express myself in Serbian, so the young lady interviews in Serbian I answer in English and look to Mira to explain some of the words that I have forgotten in the last 60 years. So now do you understand the stress?
Happily, the young lady was wonderful, and I managed to win her over (I think) so it was a great success.
Tomorrow will be a long day, going to Negotin and that is 3-to-4-hour drive.
I'm going to bed
Hello All,
Sorry for the delay in my reports, but the connection has been a bit difficult.
7:00 am, we are on our way to Negotin to see the green houses that VDS built at the Bukavo Monastery for the badly needed vegetables for the Soup Kitchen and other monasteries.
On the way we stopped to see Mati Glikeria at St. Petka Monastery. I always like seeing Mati, but I think this time she looked a bit weaker and tired, but then again after the last year we all are feeling the same.
We arrived at Monastery Bukavo where Monk Marko greeted us, had a lovely lunch and then on the way to the green houses.
I can't tell you how amazed I was with what they had done in a very short time with growing the tomatoes ?and peppers to supply the soup kitchen and other Monasteries. They plan on building two more green houses. They need our help with a tractor that will help them dig up the dirt after the season for the new planting. We are hoping that we can do just that.
On our way back to a 4-hour drive back to Belgrade. The weather has been incredibly hot the worst I have experienced in a long time (including FL).
Tomorrow is Sunday and thank God it's a free day.
See ya