Following the visit to Serbia, Our Serbs undertake another project – Lake Michigan Cruise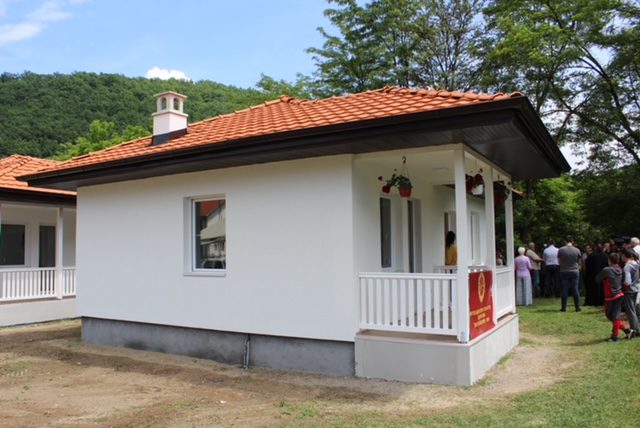 We have already written about the visit of the delegation of the humanitarian organization "Our Serbs" to Kosovo and Metohija, the Republic of Srpska, and the municipality of Medvedja, in which, in cooperation with the local organizations and the Diocese of Niš, a settlement for poor families is being built. The first built house was financed by "Our Serbs," but the project did not stop there for these humane people – funds were raised for the second house, which will soon be finished and moved into, and half of the funds were allocated by "Our Serbs" for the construction of the third house, for which the Diocese of Niš will donate the rest of the money.
"I think that this visit to Serbia has been the most emotional but also the most productive. It was wonderful to see a happy family moving into their new home, which, with our dear donors, we equipped and provided everything: furniture, from food to small household appliances and dishes. That's why we decided to continue participating in the project, so we look forward to the second and third houses, which will be completed before Christmas. During our stay in Serbia, we also visited Strpce and financed an excursion for 65 children who visited monasteries in Kosovo and Metohija; our donors provided funds for January expenses for 95 kindergarten children in Strpce so that parents could use those savings to make them happy with Christmas gifts that month. We also allocated funds for the operation of a blind boy and financed the purchase of a tractor for the Decani Monastery with other organizations. Furthermore, we will finance one-month food expenses for an orphanage in Republika Srpska, where 85 children of different ages are staying."– says Kathy Fanslow, president of "Our Serbs."
A Cruise on Lake Michigan is planned for September 9th, 2023, with more than 100 guests enjoying the ambiance and entertainment. Many works of art and other interesting gifts and items will be offered at the auction, and all proceeds will be allocated to current organization projects.
This is also a call for all our fellow citizens to participate in this project and thus help those who need help the most.
More information on the www.ourserbs.org
Nakon posete Srbiji, Our Serbs u još jednoj akciji – Krstarenje na jezeru Mičigen
DONACIJE ZA NOVE KUĆE
Već smo pisali o poseti delegacije humanitarne organizacije "Naši Srbi" Kosovu i Metohiji, Republici Srpskoj i opštini Medveđa, u kojoj se, u saradnji sa tamošnjim organizacijama i Niškom eparhijom gradi naselje za siramašne porodice. Prvu izgradjenu kuću finansirali su "Naši Srbi", ali tu za ove humane ljude akcija nije prestala – skupljena su sredstva i za drugu kuću, koja će uskoro biti gotova i useljena, a polovinu sredstava "Naši Srbi" su odvojili i za izgradnju treće kuće, za koju će ostatak novca donirati Niška eparhija.
"Mislim da je ova naša poseta Srbiji od svih dosadašnjih bila najemotivnija, ali i najproduktivnija. Bilo je divno videti srećnu porodicu, koja se uselila u svoj novi dom, koji smo, uz naše drage donatore, opremili i obezbedili sve: od nameštaja, hrane do malih kućnih aparata i posuđa. Zato smo i odlučili da u akciji i dalje učestvujemo, pa se radujemo drugoj i trećoj kući, koje će biti završene pre Božića. Tokom boravka u Srbiji, posetili smo i Štrpce, finansirali ekskurziju za 65 mališana, koji su obišli manastire na Kosovu i Metohiji, naši donatori su obezbedili sredstva za januarske troškove vrtića za 95 mališana u Štrpcu, kako bi roditelji tog meseca mogli da ih obraduju poklonima za Božić, odvojili smo sredstva i za operaciju slepog dečaka, i sa drugim organizacijama finansirali kupovinu traktora za manastir Dečani. Takođe ćemo finansirati i jednomesečne troškove ishrane za sirotište u Republici Srpskoj, u kojoj boravi 85 dece različitih uzrasta." – kaže Kathy Fanslow, predsednica organizacije "Naši Srbi".
Za 9. septembar planiran je Cruise na jezeru Mičigen, na kome će više od 100 gostiju uživati u ambijentu i zabavi; na aukciji će biti ponuđeno mnogo umetničkih dela i drugih zanimljivih poklona i predmeta, a sav prihod će biti namenjen aktuelnim akcijama oranizacije.
Ovo je i poziv za sve naše sugrađane da uzmu učešće u ovoj akciji, i tako pomognu onima kojima je pomoć najpotrebnija.
Više informacija na www.ourserbs.org